1. What is the name of your Etsy shop and why did you choose that name?
My Etsy shop is KKL Primitives. It's really very simple how I came up with the name, my grown daughters started calling me a crazy craft lady when I first started to do local craft shows. Primitive items don't seem to do well in the Pittsburgh area so I decided to try my luck online. One of the first things I did was join a primitive community and I had to choose a user name so changed the C's to K's and thus became The Krazy Kraft Lady. I use the initials as my shop name.
2. How long have you been on Etsy?
I joined Etsy in 2007, so 7 years now.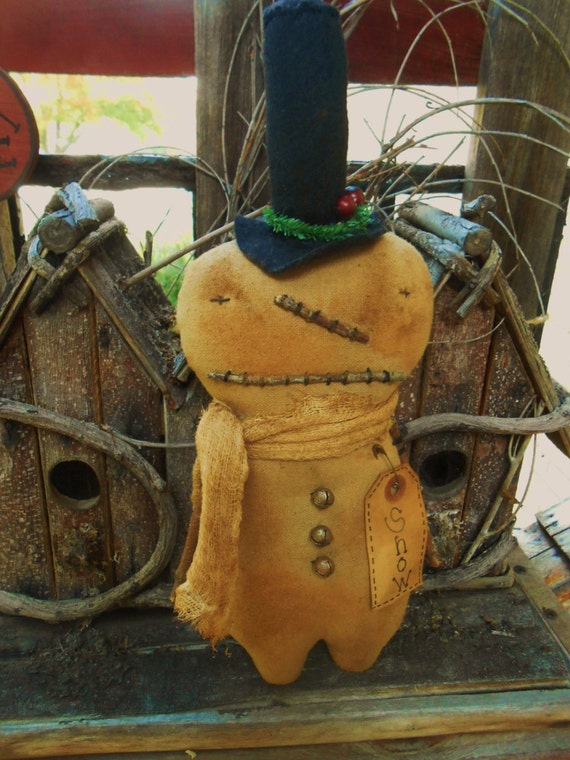 3. What type of items do you offer?
Every thing I offer is handmade by me in my smoke and pet free home. I enjoy making primitive/folk art/whimsical items from prim dolls & animals, pillows, stitcheries, penny rugs, seasonal items to e-patterns. The only things I don't know how to do is tole painting, quilting, knitting, crochet and paper mache sculpting. That's actually quite a bit, lol.
4. How long have you been crafting?
I've been crafting for myself and family for over 41 years but only got into primitive/folk art and selling my craft work for the last 9-10 years.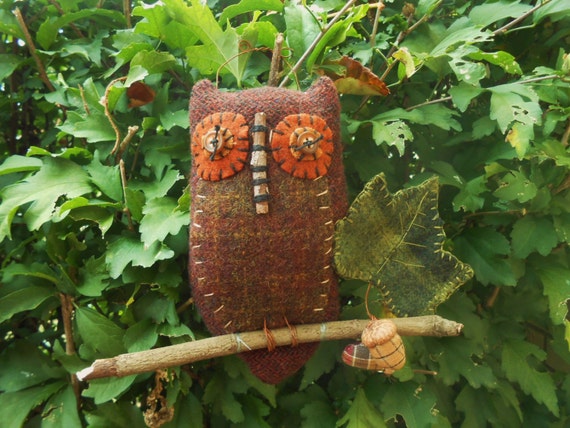 5. Who or What inspires you?
I guess I'd have to say I'm more inspired by the artisans that create their own work without actually following someone else's pattern. They are so imaginative and creative, I'm in awe of them.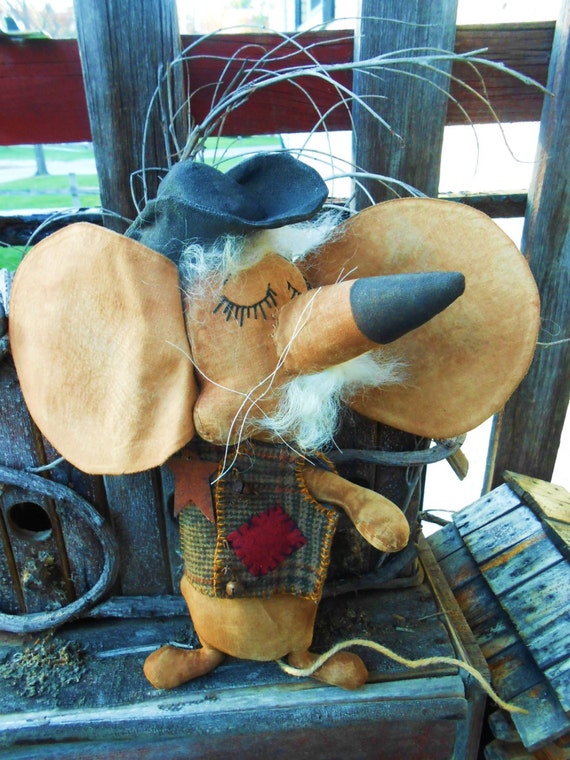 6. What is your favorite item in your shop and why?
I'd have to say my mustachioed mouse doll Sheriff Rupert Thibideau. He is my own design, he's prim AND whimsical. I even made up a little 'history' for him:
Rupert's Background: He's a French mouse from Texas whose ancestors date back to the 1600's. Rupert's surname is derived from the French personal name Theobald meaning bold or brave. An ancestor on his mother's side was said to have been a Constabulary in France under King Francis I. Thus, Rupert was destined to become an official protector and keeper of peace between mice and cats.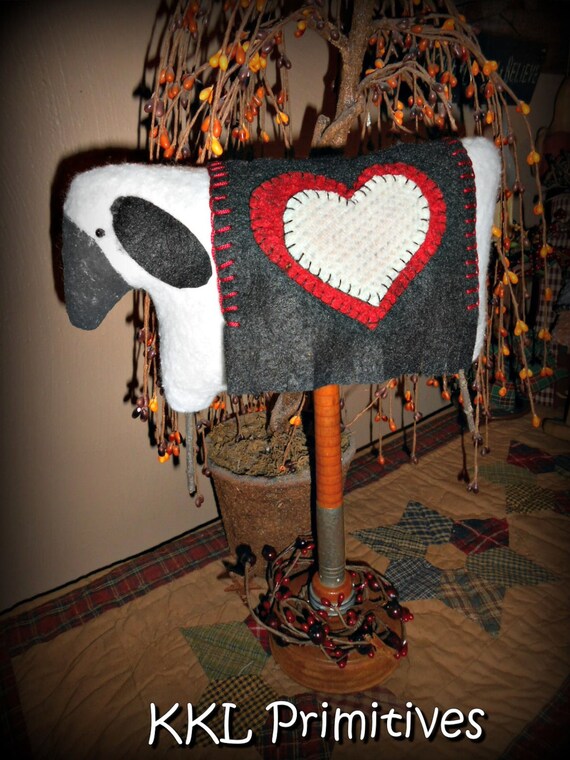 7. Other places where you can be found (Ebay, webstore, blog)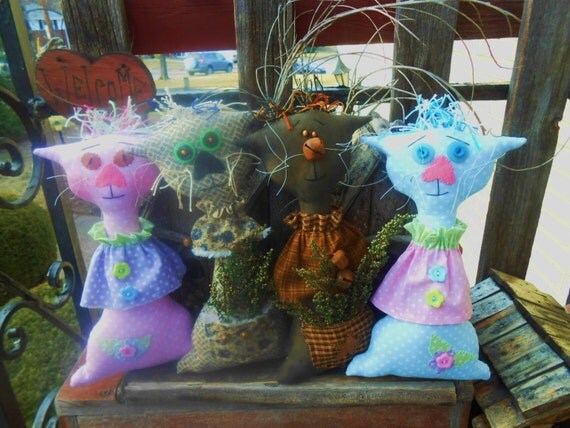 8. How do you describe your artistic style?
Prim, folk art and whimsical, I love all 3.
9. Do you have set days or times to work on your craft?
Definitely. Evenings and weekends since I watch my grandkidsduring the day. I try not to craft after 8pm so I can spend a few hours with my hubby before retiring for the night. If he's watching sports though, I'm crafting!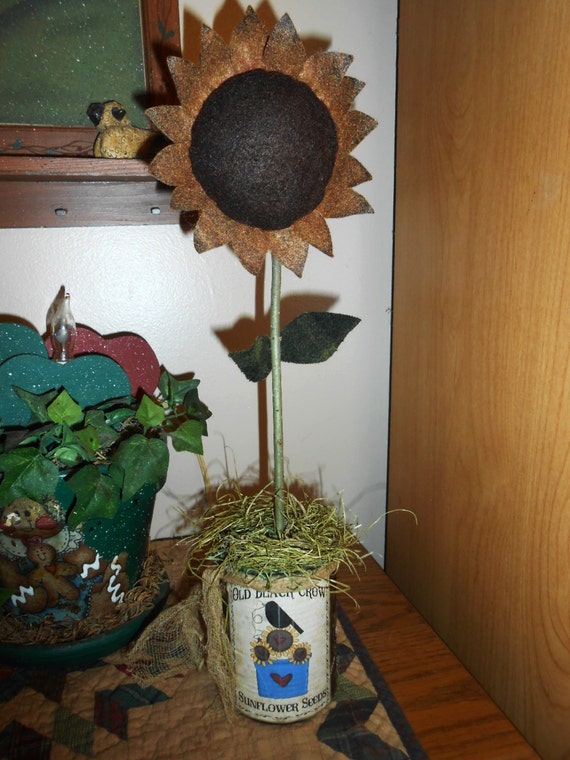 10. What words of advice would you give others or to someone just starting out?
Be patient and don't give up. I'm trying to follow that advice myself. There are hundreds of other similar artisans who are competing with 'our' products. Many have been selling their wares for far much longer and have built up a customer base over a long period of time. I'm slowly building up my own customer base. I have 4 customers who always return to buy or special order from me. That's not a lot, but it's a good start. Make a good product, and they will come back for more.
I just recently joined 2 Etsy teams, advice given to me by a fellow prim crafter. The teams support each other by helping to promote each other's shops. Apply to a Team that specializes in the same type of work you do.
11. Tell a bit of personal info about yourself.
I've been married 41 years and have 3 beautiful daughters ages 41, 38 and 33.
I have 5 totally awesome grandchildren ages 14, 11, 7, 5, and 1 years old.
Besides crafting, I love to read ( horror, mysteries, thrillers) and 'road trip' with my hubby.
We are collectors of jukeboxes ( 1930's-1950's), we have 22 at the present. We also have old upright Coke machines ( take a nickel or dime) from the 50's, soda fountain memorabilia, old advertising signs and much more. We have traveled to the Chicagoland Antique Advertising, Slot-Machine and Jukebox Show in St. Charles, IL twice a year for the last 21 years.